We believe that every child is unique and can accomplish anything they put their minds to. Our childcare centers FOCUS on each and every child individually. We provide a clean and comfortable environment that encourages creative and educational activities. Parents are always welcome and can communicate with our friendly staff at any time. We seek to create a strong relationship with parents to support healthy interactions and open communication.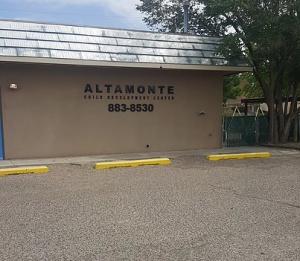 We are always working to improve our centers by utilizing the information gathered from our observations and Ages and Stages Questionnaires (reliable, accurate developmental and social-emotional screening for children between birth and age 6). This information is used to assess our children to help them achieve their developmental milestones. We welcome any feedback and offer referrals as needed to help set and reach these milestones.
Our goal is to see our children exhibit healthy social-emotional and developmentally appropriate growth. Parents can feel confident that their children are receiving quality care to better prepare them emotionally, socially, and scholastically.
 We are a part of FOCUS, which is New Mexico's newest tiered quality rating program.
Altamonte Child Development Center